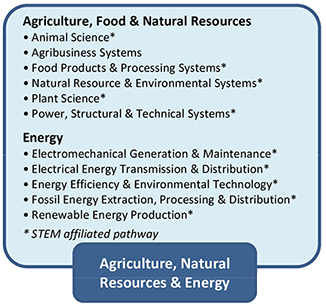 Agiriculture, Food and Natural Resources
Through a secondary program in Agriculture, Food and Natural Resources students are provided opportunities to explore and prepare for career opportunities in the vast agricultural industry.  The AFNR program is delivered through three components which develops student knowledge and skills needed for post-secondary education and employment in the industry.
Those components are:
Classroom & Laboratory Instruction through contextual learning

Work-based Learning Experiences through the Supervised Ag Experience programs

Personal Development through the FFA Organization
Energy
Secondary programs in energy provide students exposure and training in multiple areas of the Colorado energy sector including; renewable energy, electrical generation, transmission and distribution, energy extraction and energy efficiency.
Pathway information can be found at:  Secondary Pathways
Colorado Energy Careers links:
Outdoor Recreation Leadership
Secondary ORL programs include courses in recreation & leisure, outdoor resources management, specific skills needed for outdoor activities.  It also provides for inclusion of Bike Technician courses aligned with the Bike Teck curriculum.
Pathway information can be found at:  Secondary Pathways