While not an exhaustive list, below please find links to resources, policy information, and points of connection to support your WBL efforts. You can download an Adobe pdf WBL summary of resources.
Statewide Work-Based Learning Resources
A complete list of resources from the October 2017 TalentFOUND Sectors Summit: Accelerating Work-Based Learning can be found on the CWDC WBL webpage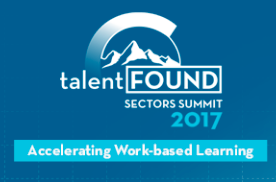 Policy Guidance & Information
Colorado Department of Education (CDE)
WBL Credential Overview
The target population for the WBL Coordinator credential is a secondary educator who directly supervises students who are enrolled in a "work based learning course" at a work site and who works directly with employers for student placement and evaluation of their work experience across multiple CTE program areas in a high school or school district.
If you are a CTE credentialed instructor who supervises students at a work site in the CTE program area for which you currently hold a credential, not across multiple CTE program areas, you do not need to hold this Work Based Learning Coordinator credential to claim your enrollments for CTA.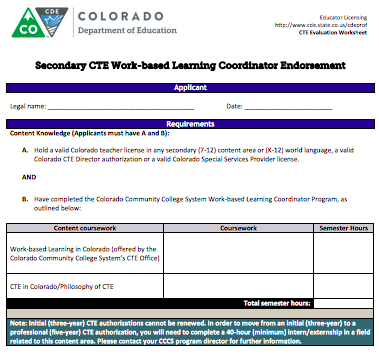 Liability, Safety, and Insurance Information
CDLE resources are from the Colorado Department of Labor and Employment
Funding Information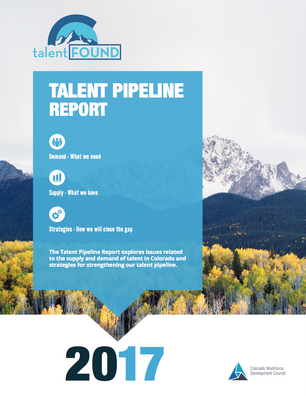 Connecting with Industry and Workforce Centers
Apprenticeship Information
Colorado Career Guidance Resources
Careers in Colorado

– Career pathways work for high-demand industries (IT, advanced manufacturing, healthcare, construction, cybersecurity and business operations)

Skillful

– Skill-based hiring and key industry information.
Connecting with Career and Technical student Organizations (CTSOs)
Colorado has 9 statewide CTSOs. For information on the organizations and how to connect with their work, visit the CTSO webpage.