Colorado Creative Careers, a Career and Technical Student Organization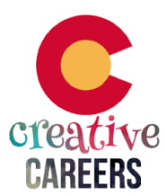 Colorado Creative Careers is a CTSO for students who have the desire to develop their interest in careers and leadership roles within the Visual and Performing Arts fields. Students will expand their understanding of career opportunities, hone their skills in the creative arts, learn from professionals from the creative industries, and network with others from throughout Colorado by becoming active in their local Colorado Creative Careers chapter.
The career fields that can be an area of focus include:
Audio / Sound Production
Digital Design – Animation, Graphic Design, New Media, Photography, Web Design
Visual Arts
Film / Video Production
Technical Theater and Design
Colorado Creative Careers Student Organization Handbook: A handbook detailing the requirements of a Career and Technical Student Organization for the CTE Arts classroom. Includes Student Involvement Techniques, tips and documentation strategies.
Get Involved
The Colorado Creative Careers CTSO is a statewide organization. Several school districts have local Creative Careers chapters, you are encouraged to ask if Creative Careers is offered and supported at your school.
More information :
David Barnes
CTE Program Director, STEM, The Arts, & Information Technology
email: David.Barnes@cccs.edu