Standards
Arts, STEM IT Standards and Alignments. This is a portfolio pdf which will not open in a browser. Please download the file and view from your local computer or smartphone.
Contact
David Barnes, Program Director Teaching and Learning
email: David.Barnes@cccs.edu
phone: 720-858-2811
---
Colorado CTE
STEM, Arts, Design, and Information Technology
9101 East Lowry Blvd
Denver, CO 80230
Arts, A/V Technology and Communication
Arts Resources
National Arts Index, a project of Americans for the Arts
CACTE – STEM, Arts and IT Division, a professional association for Career and Technical educators.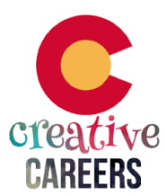 CTSO
Colorado Creative Careers, a career technical student organization for students who are interested in developing their interest in careers and leadership roles within the Visual and Performing Arts fields.
Website: Colorado Creative Careers
STEM = Science, Technology, Engineering and Math
Science, Technology, Engineering and Math are driving our global marketplace. We need to ensure today's learners and tomorrow's leaders are passionate about all the possibilities these areas of study hold.
STEM Resources